This article is a preview of "Stories from The Springs" an historical book that was  released in 2020 by Vanishing Past Press.
This publication will document the many tales from the historic springs in the Niagara Region.
In the past I published under the "Abandoned History" Series from People Ink Press through the Museum of disAbility History, Buffalo New York.
Now retired, I will be writing for Vanishing Past Press, whose corporate headquarters is located at the end of our family room.
Springs show up in the early history of Niagara County as they were landmarks and resting areas on the early trails.   These routes through the Niagara Frontier were often Native American foot paths with springs along the way for the travelers and their animals.  The springs were well known along the main trails such as the Old Niagara Trail, which included Chestnut Ridge Road from Batavia, New York, past Charles Wilber's log tavern on Cold Springs Road and onto Stone Road, meeting  Route 104 (Ridge Road) at Warrens' Corners and West  to Lewiston and Fort Niagara.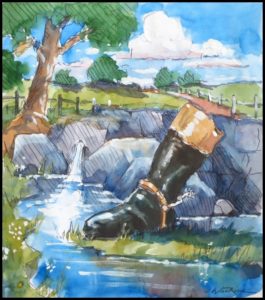 Boot Leg Spring, as interpreted by Lockport artist Jeff Watkins 2019
A man named John Street was murdered in 1790 while camped at a spring near the Ridge Road (Route 104), a mile West of Warrens Corners, New York.  John Street, a Fort Niagara businessman, was traveling to Massachusetts and was rumored to be carrying a large sum of money.
At that time Ridge and connecting roads were nothing more than paths, they were dangerous with frequent robberies.     After John Street's death, travelers camped at the spring found some remains when their dog retrieved a boot with an attached leg.  Scraps of John Street's clothing were found hanging in the bushes a year later.   The men responsible for the murder and robberies were shortly captured.
From an account: "In 1790 after I had sold a drove of cattle at Lewiston (to go over the river), and at Fort Niagara I met with John Street, the father of the late Samuel Street, of Chippewa, C.W.  He was going to Massachusetts and said he would like my company through the wilderness, as far as
Geneva. Waiting a few days, and he had not getting ready, I started without him.  He followed in a few days and was murdered at a spring, near the Ridge Road, a mile west of Warren's".  Judge Hopkins went on to say, "His friends in Canada, gathered up fragments of the body, and carried them home for burial.  He was robbed of a considerable sum of money".
For now, given the details, I am going to name the spring "Boot Leg Spring".  The exact location of the spring is unknown, however, the account has it one-mile West of Warrens Corners (was Forsyth Corners) and the historic Forsyth Tavern, in Cambria, New York.  This story is from the "Pioneer History of the Holland Purchase of Western New York", 1852, by Turner, O, as told by Judge Hopkins.
It is hard to imagine but in the year 1790 Ridge Road (route 104) was a primitive trail, the Forsyth Tavern was not yet open(1808), and for many travelers camping was the only option.  Ridge Road heading East after Warrens Corners was often not used because of the swampy conditions, although it was often navigable in the winter when the water would freeze.   An alternative for those heading East was to use Stone Road which also had a junction at Forsyth Corners (now Warrens Corners).  This is where Route 93 meets Route 104, in the town of Cambria, New York.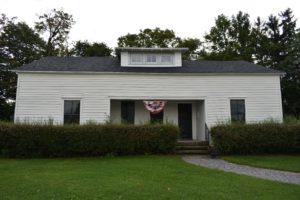 The Historic Forsyth Tavern, 5182 Ridge Road at Warrens Corners, Cambria New York
Update July 2019:  I handed out a "Wanted" flyer in Cambria, New York during a recent "town wide yard sale".  Homes, business and churches were open along Route 104(Ridge Road) and invited the public to look at their sale items.  I passed out the Information about Boot Leg Spring and left "Wanted" flyers hoping that someone may know the location of the spring, there was considerable interest.   I have received three calls with possible sites.  A spring behind the Cemetery on Budd Road was reported by a nearby farmer and the local mailman called with additional information.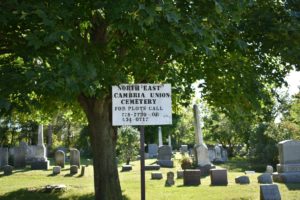 Northeast Cambria Union Cemetery, Budd Road, Cambria New York.
I am using the restored Forsyth Tavern in Cambria, New York and the related Jay Bird Antiques shop, in the tavern barn, as my base of operations as they are the closest active business to the spring and have been very helpful with my search.  The tavern and the barn were just restored, are in use, and there are many plans for the future.    Posted on the wall in the Jay Bird Antiques barn for customers to see is my "Wanted" poster for the Boot Leg Spring.  Tyler Booth is the knowledgeable proprietor of the Forsyth Tavern, and his father, Jay Booth, operates the antique shop.  Both are available to answer customers questions about local history and field information about Boot Leg Spring or other springs along the old road.   Readers with questions or information can contact Jim Boles at [email protected]
I would like to thank Tyler Booth of the Forsyth Tavern and Tom Collister, Curator of the Lewiston, NY History Museum, for their assistance with this article.